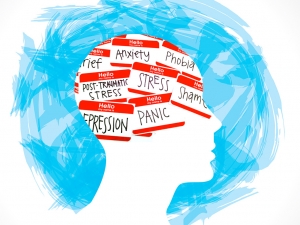 Millions of Americans are affected by mental health issues such as anxiety and depression.  While mental health problems can range from mild to severe, it is important that treatment is available to all who suffer.  Sadly, approximately 11 million Americans don't get the help they need to treat mental health conditions, which leads to increased instances of self-harm, destructive behaviors, and even suicide.  Mental Health Week is this week—October 7-13, and it seeks to bring attention to issues such as depression and anxiety. The goal is to not only decrease the harmful results of mental health problems, but also to rid our nation of the negative and shameful stigmas surrounding mental illnesses.  Mental illness truly is an illness just like any other.  We wouldn't dream of shaming those with cancer into feeling bad about themselves, and the same rings true for mental illnesses.  This week focuses on helping others know they are not alone and guiding and encouraging them to find the help they need.  Unbeknownst to many, chiropractic care is a safe and effective option for improving mental health.
How Can Chiropractic Improve Mental Health?
Lithia Springs chiropractor Dr. Ronnie Bolar is an expert in neurologically-based chiropractic care which focuses on the whole body as it relates to the nervous system, and more specifically, spinal health.  Dr. Bolar examines the spine and searches for misalignments, or spinal vertebrae that have twisted, turned, or shifted out of place.  A gentle adjustment will correct these misalignments and improve spinal health. But how does this relate to mental health?
Spinal misalignments can cause nerve interference, which distorts communication throughout the body.  Because the central nervous system runs throughout the entire body, one out-of-place vertebra can lead to trouble elsewhere.  While the exact cause of […]